Dogs
How often do I have to bathe my dog? Canine Hygiene Guide
Actually, there is no written rule that establishes the frequency with which you have to bathe your dog. every race is different and it also greatly influences Lifestyle of the dog and his health condition.
However, it is It is important that you learn to determine when your dog needs a bath. Hygiene is very important, but you shouldn't excessive frequency is harmful, since you will eliminate the fat that it has on its skin, which protects it. This can affect your dog's defenses, with consequent skin problems.
It is also It is essential that you use specific shampoos for dogs, not a shampoo for humans, since the pH of their skin is different from ours. To avoid bathing him too much, you can alternate bathing sessions with dry cleaning sessions especially if your dog is one of those who get too dirty.
Why do I have to bathe my dog?
In general, dogs do not need to be bathed very often, so it is recommended to do so every two or three months.
However, you should not take this as a fixed rule, since your dog's bath It depends on many factors:
If your dog smells bad, you can bathe it to remove the smell. This is common in breeds that have greasy hair, such as the Cocker Spaniel or the Basset Hound.
If your dog is very active and spends a lot of time playing outside, it is likely that he will come home dirty.
The dogs with long or long curly hair they may need more baths than shorthairs, as they pick up dirt from the floor. In this case, a bath a month or every six weeks is recommended, accompanied by one or two weekly brushings to keep the coat in good condition.
The short haired breeds they usually require fewer baths, as long as they are healthy. A bath every two or three months will be enough, except in special cases in which the dog gets dirty.
The hairless breeds they lack the protection provided by their fur, so they need a weekly bath.
If your dog suffers from allergy or skin problem, your vet may recommend a regular bath with a shampoo specific to your problem.
if your dog does not respond well to antiparasitic treatments Oral or topical, you may need regular baths to help keep fleas and ticks under control.
Also, you should take the opportunity to check if your dog has scratches, bumps, parasites or other problems since having wet hair and attached to the body, they are easier to see.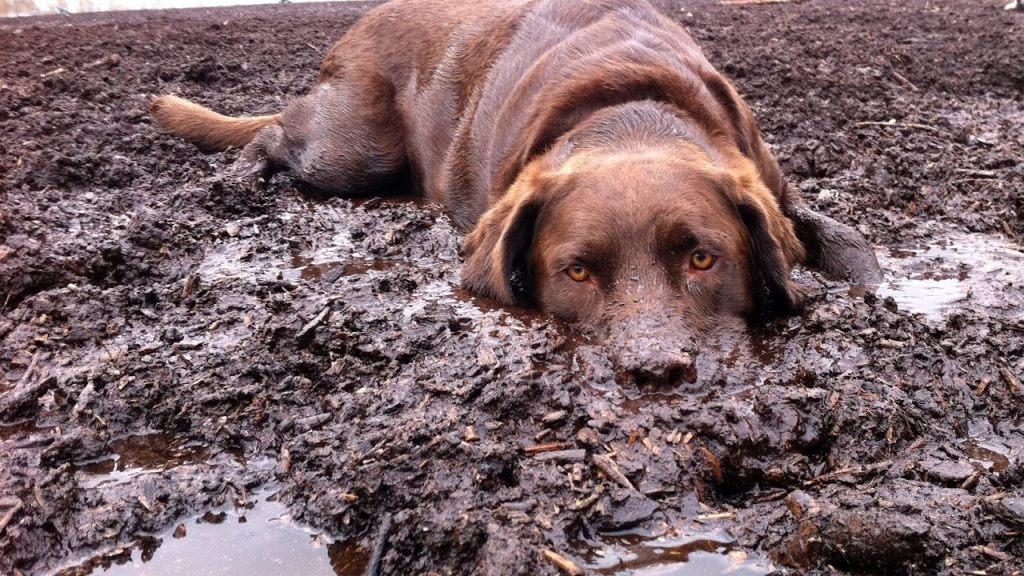 In most dogs, regular brushing will keep the coat and skin in perfect condition and will eliminate the need for frequent baths. In any case, your vet can advise you on the most appropriate bath frequency for your dog.
How to bathe my dog
Before the bath, untangle her hair and eliminate knots.. Otherwise, they will cake when wet and be more difficult to remove.
It's very important choose a specific shampoo for dogs, since the pH of their skin is neutral and shampoos for humans are usually acidic.
Dilute the shampoo with watersince it will make more foam and you will be able to spread it better.
Make sure that don't get water in your ears. At the end of the bath, be sure to dry your ears and ears well, since moisture in this area can cause infections.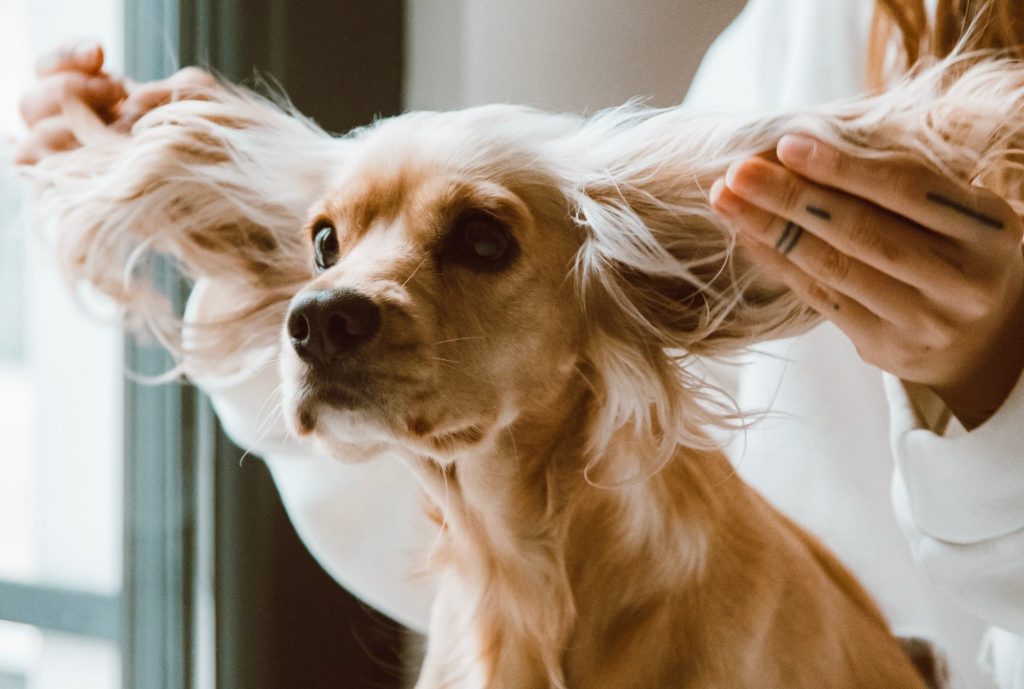 Start by washing your dog's face with a damp washcloth.. Be careful not to get soap or water in their ears, nose, or eyes.
Lift their ears up and clean the inside surface to remove dirt, wax, and dead skin. Do not penetrate the ear too much, limit yourself to the superficial area. If you have to clean more inside, go to the vet.
Thoroughly wet your dog with the shower, using lukewarm water. Next, apply the shampoo, rubbing by hand in sections. Be sure to soap the entire dog (back, sides, neck, chest, belly, legs, feet, and tail). If the hair is very dirty, rinse slightly and then repeat the lathering.
Rinse the dog well, making sure to completely remove the shampoo. Clean the interdigital spaces well and rinse several times until there is no soap left, as it can cause dermatitis, as well as leaving the hair sticky and dull.
Do not use vinegar or lemon as conditioners, since they are too acidic and will damage the hair. In case you need it, there are specific conditioners for dogs.
After rinsing the dog, let it shake and dry it with towels. You can too use a dog dryer. Use hand dryers at minimum temperature so as not to burn your skin. Do not leave the dog outdoors until it dries completely.
How to bathe my dog ​​with a dry shampoo and without water
Dry shampoos are recommended to keep hair clean between bathsespecially for dogs with oily hair, which accumulate more dirt.
It does not mean that by using a dry shampoo you will never have to bathe the dog with water, but it is an alternative for those dogs that do not like to bathe, since you can delay the time between baths, alternating with the use of dry shampoo. It is also a good option in case you need to clean your dog very frequently.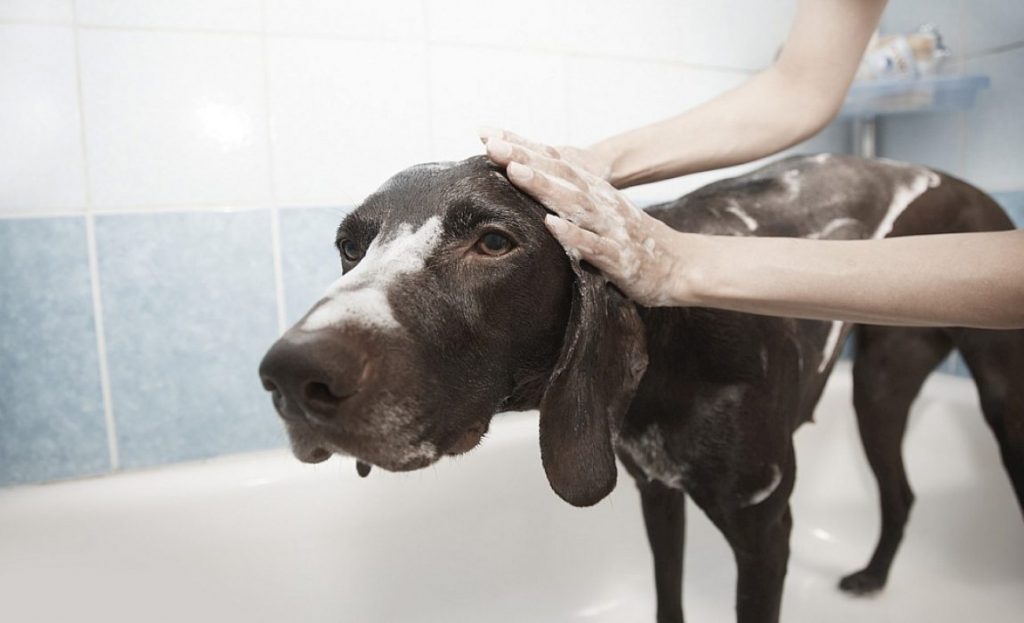 you can prepare a homemade dry shampoo Effective homemade and with ingredients that will not spoil your dog's hair or damage their skin. In a container, put 3 or 4 tablespoons of cornmeal or cornstarch. Add a pinch of baby powder (just a little, so it doesn't bleach the hair). These ingredients will provide cleanliness and shine.
You can also add baking soda, which will help eliminate the bad smell. Thyme or rosemary will give it a pleasant aroma. To use this shampoo, you must apply it to the hair by massaging gently. Let it act for about 20 minutes and remove with a soft bristle brush. A hair dryer can help remove any traces of dust.
The commercial dry shampoos They are sprays that are used by spraying them all over the body, then removing them with a towel. They are usually made with corn starch, sodium bicarbonate, talc and boric acid and their price ranges from €5 to €20.
Before applying dry shampoo to your dog, brush it well to remove any tangles and dead hair..
Next, apply the shampoo to his body, massaging gently. Try not to get into the eyes, ears or mouth, to avoid irritation. Leave to act for about 20 minutes. If you use a commercial shampoo, read the label to know the application time. After 20 minutes, or the time indicated by the brand, brush your dog with a soft-bristled brush, making sure to remove any remaining shampoo, dirt, and dust.
Best shampoos and conditioners for dogs
Below, we offer you a list of selected shampoos and conditioners among the most valued, so you can keep your dog clean and healthy.
Beaphar Dry Shampoo
Shampoo suitable for all types of hair. Promotes hydration and reduces excessive hair loss. It is quickly absorbed, so it does not need rinsing. The ingredients are natural, from organic farming. Includes Aloe Vera and raspberry water.
Petuchi Dry Cleaning Shampoo
It is a shampoo that does not need rinsing, made with Aloe Vera and Oat Milk, with a pleasant aroma of fresh talc. The pH is suitable for adult dogs and puppies. It is applied by spraying on the body and then brushed or wiped with a dry towel. Your dog's hair will be clean and fluffy, perfectly hydrated. This shampoo is 100% natural, vet approved.
Devious Conditioner
Conditioner that keeps your dog's hair healthy, soft and shiny, preventing it from breaking. In addition, it softens the knots and helps to undo them. Its formula repels dirt and has a moisturizing effect. It is quickly absorbed. It can be applied dry or wet.
101 Love For Pet Conditioner and Detangler
This conditioner will help you untangle knots and keep your dog's coat in excellent condition. Its formula includes a selection of vegetable oils that soften the hair and repel dust and dirt. It can be used alone, on dry hair or before shampooing, leaving it to act for a few minutes. It is also suitable for after washing, before drying your dog. Ideal for all coats.
Can I bathe my dog ​​with detergent?
The answer is no. You will find multiple recipes to make dog shampoos with washing machine or dishwasher detergent. However, it is not recommended use them, since it is about very aggressive detergents that can cause dermatitis, dry hair, generation of grease or dandruff, itching and other problems.
Specific shampoos for them are not too expensive and you make sure you are using a product specially designed for their skin care.
How to prevent my dog ​​from smelling bad
He bad smell of a dog can be due to dirt, presence of fungus or some disease. If your dog habitually smells bad, go to your vet to rule out the possibility of a disease that requires treatment.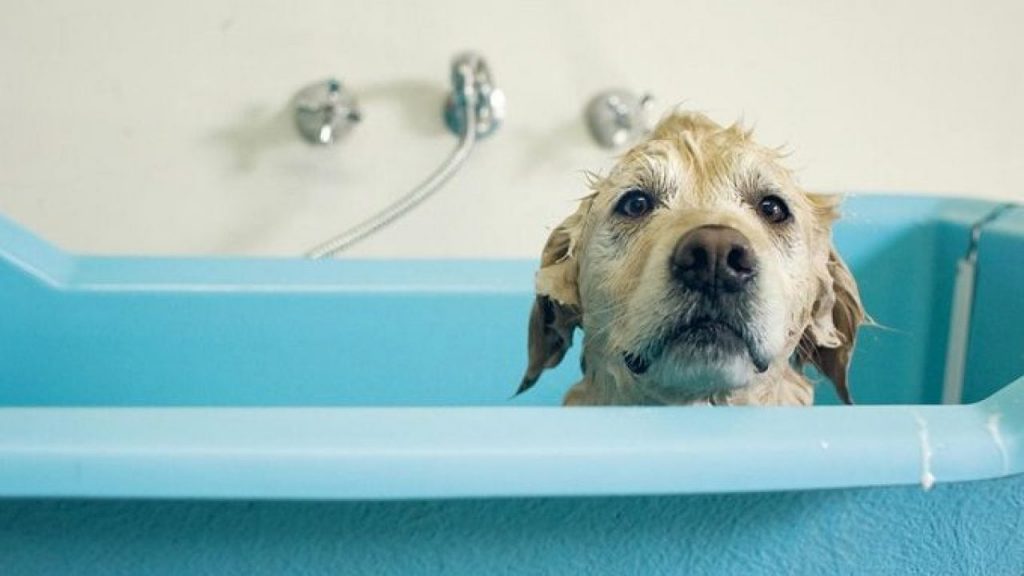 If this is not the case, follow these guidelines to keep your dog clean and smelling good:
brush it regularly to remove dirt, dust and dead hair.
Bathe only when necessary since the excess causes the elimination of the natural fat that they have in the skin to protect themselves.
Consult your vet about the appropriate bath frequency for your dog, since it is not the same if your dog has long or short hair, rough or curly hair.
Dry it well after the bath since humidity generates bad odors.
Take care of your mouth and ears since they are areas where many infections occur, with the consequent bad smell.
How to bathe a dog depending on its size
A big dog it can cause more problems than a small one, especially if you try to get out of the shower when you're wet. Therefore, it is good to accustom them to the bathroom from puppies. Still, it might be a good idea to keep the bathroom door closed so she doesn't run through the house.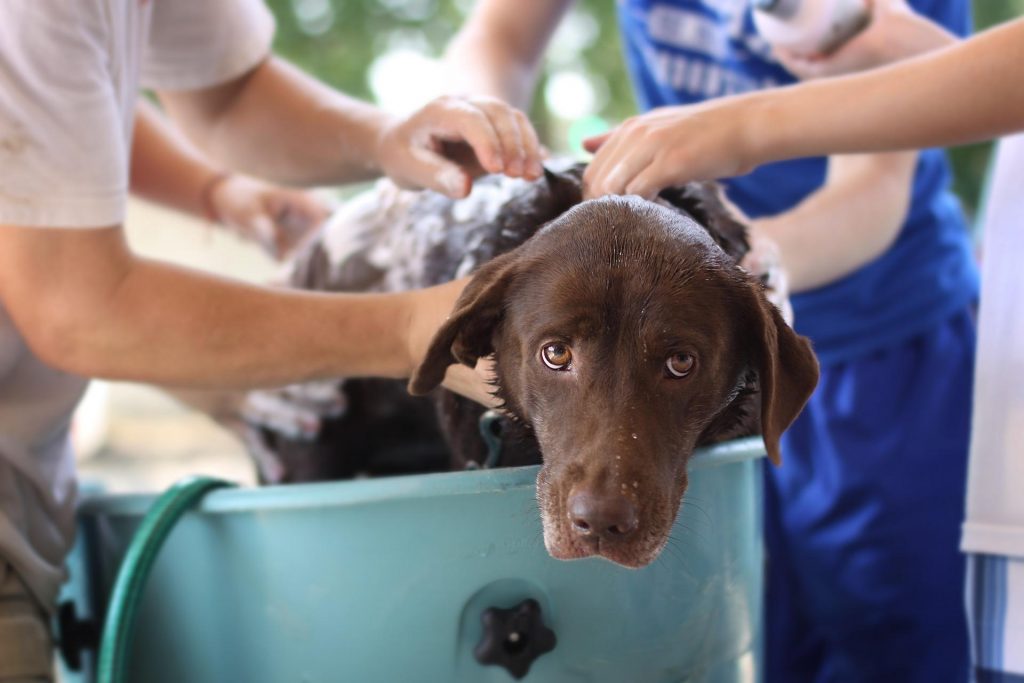 If you decide to bathe him outside, try to make it a warm day. Keep in mind that the water will be colder than what you can use in the bathtub and be sure to dry it well afterwards with towels, using a specific dryer for dogs if necessary.
Some cities have car wash services for dogs. Be sure to bring your dog's shampoo, towels, and a leash.
The small dogs They tend to get dirty more than the big ones, so the frequency of the bathroom will be greater, since it will look dirty or smelly more often. It is still important to get him used to the bath from a young age, brush him well first, use a suitable shampoo and make sure to dry him well after bathing.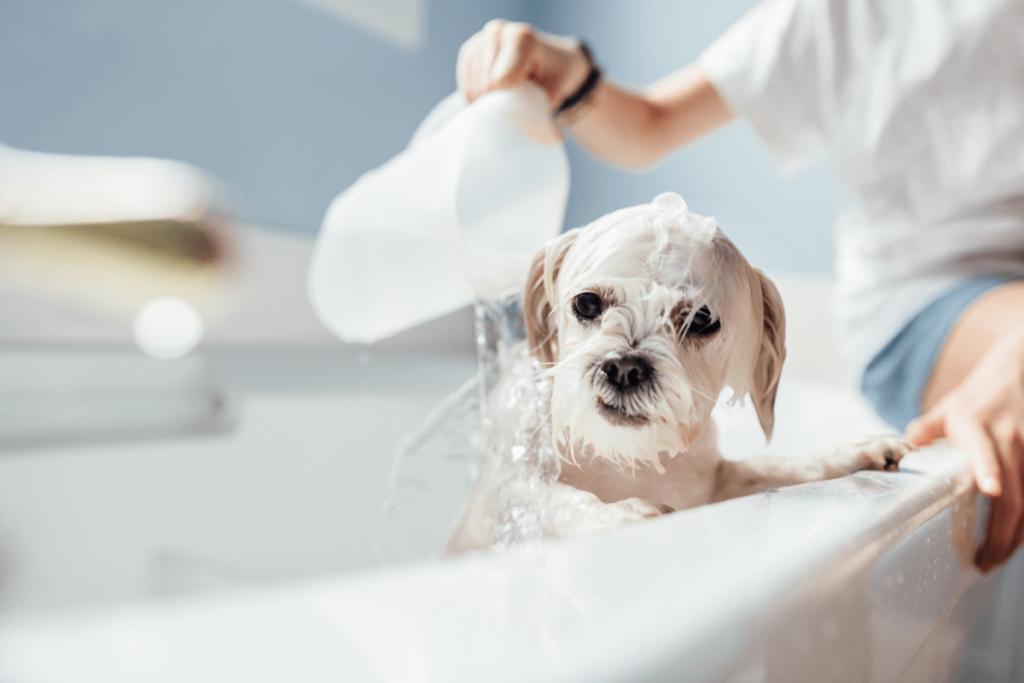 conclusions
It is not convenient to bathe a dog too frequently, do it only when it is dirty or has a bad smell.
The frequency of bathing will depend on the breed of your dog and the type of hair it has.
Before bathing, brush her hair well to remove knots. Use a specific shampoo for dogs.
Dry your dog well after bathing.
Dry shampoo is a good option to alternate with baths with water.
Proper hygiene and brushing will prevent your dog from smelling bad.
Ask your vet any questions you may have.
A large dog will need more bathroom space than a small one.
Accustom your dog to the bathroom from a puppy.