Dogs
Celebrities & Their Furry Companions
Pets are a huge part of our lives, including celebrities. After all, they provide love, comfort and cuteness.
Ever wondered what your favorite celebrity's pets look like? We've gathered up some pictures of some of the cutest, most irresistible pets in Hollywood. Check out our list to see if your favorite celeb made the list!
Reese Witherspoon
Reese Witherspoon cuddles up with her latest family addition, Minnie.
Carrie Underwood
Aside from her singing, Carrie Underwood is known for being an avid vegan and animal lover. She poses with her two rescue dogs, Ace and Penny Jean to show her love for them.
Jennifer Aniston
"We're grateful," penned Jennifer Aniston on her Instagram account on November 26, 2020. Pictured in her arms is her dog, Lord Chesterfield. She adopted him from Wagmor Pets Dog Rescue, a nonprofit for dogs.
Jonathan Van Ness
Queer Eye's Jonathan Van Ness has more than one pet, and here he poses with one of his cats and his dog, Pablo. If you need a good reason to smile, check out JVN's Instagram, as he frequently posts videos and selfies with his pets!
Drew Barrymore
"Douglas and Lucy are loving these Casper dog beds on set today!" Drew Barrymore wrote on December 14, 2020 on Instagram. Barrymore is an avid dog lover and enjoys posting pictures of her dogs sleeping, just like the one above!
Hilary Duff
No surprise, the former Lizzie McGuire and A Cinderella Story loves dogs, too. Hilary Duff takes a selfie with her two dogs looking up at her.
Amanda Seyfried
Mean Girls' Amanda Seyfried posts tons of pictures of animals. One of her favorite animals to take pictures with is her dog, especially when they can enjoy the summer sun together!
Lucy Hale
Think only everyday people can be pet moms? Think again. "I'm not a regular mom, I'm a cool mom," actress Lucy Hale writes in her caption with her two dogs in her arms.
Lady Gaga
This was the photo Lady Gaga posted in February 2021, just after her two dogs Koji and Gustav were stolen during their walk one night with her dogwalker. Thankfully, they were returned to her safely, but Lady Gaga was truly worried while they were gone.
President Joe Biden and First Lady Dr. Jill Biden
President Joe Biden and his wife, Dr. Jill Biden, pride themselves in their two dogs, Champ and Major. Here, Dr. Biden poses with the pups as they hold campaign flags.
Jennifer Garner
Jennifer Garner is known for posting lots of funny videos on Instagram with her Golden Retriever right by her side. Here, she reads a story with her furry pal, Birdie.
Michael Phelps
When he's not swimming laps in the pool, former Olympic swimmer, Michael Phelps, is spending time with his family and his two pups, Juno and Legend. They even take Christmas pictures together!
Simone Biles
Want to know about another Olympic athlete who happens to love dogs? USA Gymnast Simone Biles stands outside with her two French Bulldogs in between workouts and Olympic prep.
Taylor Swift
There might not be another celebrity who adores cats more than Taylor Swift. You can catch her taking cat naps with her kitties across her Instagram grid. "Happy National Cat Day from me, Olivia, Meredith, and Benjamin," Swift wrote on October 29, 2019.
Selena Gomez
Singer and former Disney Channel star Selena Gomez also likes to post pictures of her and her dog to Instagram. Here she poses for a Puma ad while holding her fluffy dog.
Katy Perry
In 2020, Katy Perry co-hosted American Idol from her home during quarantine. Here she holds her tiny dog, Nugget, and dresses up for the Disney-themed night.
Ashley Tisdale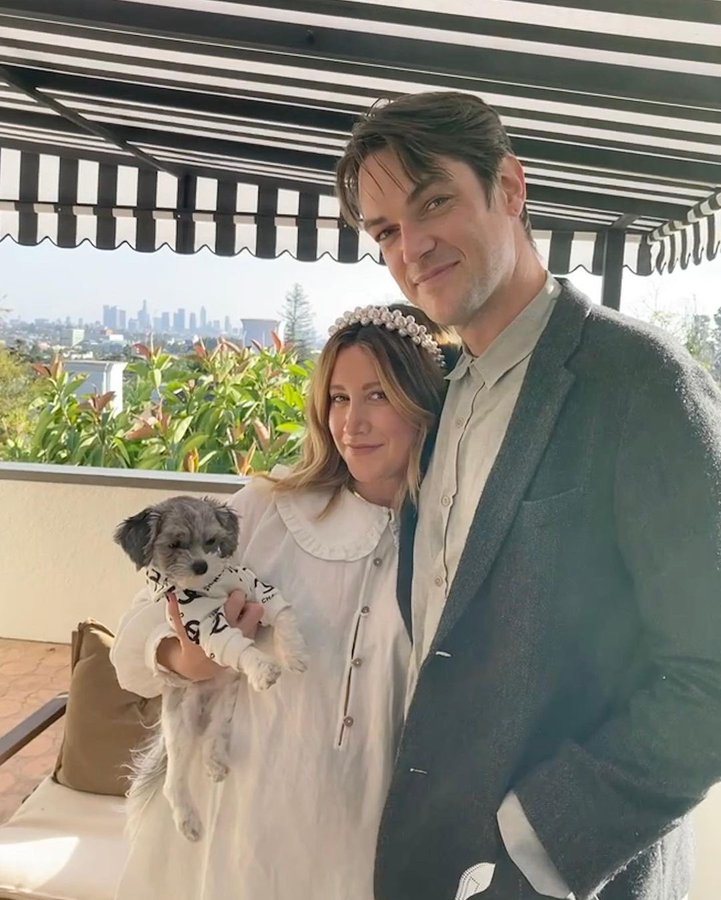 Posing with one of her dogs and her husband, Chris French, Ashley Tisdale has also been a longtime dog lover. Her Instagram and Twitter accounts frequently fill up with pictures of her pups.
Matthew Perry
Everyone can appreciate Chandler Bing's dry sense of humor on the 90s sitcom, Friends. His dog, Alfred, has his own Instagram. "I'm not very helpful while my dad learns his lines," the caption reads.
Justin Bieber
Singer Justin Bieber loves pets, too. He holds his two "fur babies" Oscar and Esther in this adorable Instagram picture, with both dogs wearing their very own hoodies.
Lauren Conrad
Fashion designer and former reality TV star, Lauren Conrad holds one of her furry friends in this photo. Conrad rescued this cutie from Wags and Walks Rescue, a Los Angeles dog shelter, in 2019.
Ryan Reynolds
Ryan Reynolds and his dog Bax share a special moment for Bax's birthday in this picture. "I'd bake you a cake, but it'd kill you," Reynolds jokes. "Not because you're a dog. Everything I bake is poison."
Hugh Jackman
Australian actor, Hugh Jackman jokes with is dog Dali on Instagram: "I really think my selfie skills have improved. Kinda?????" Jackman owns another dog named Allegra.
Rachael Ray
Rachael Ray and her dog, Bella Boo Blue pose at Ray's home to record her show during quarantine in 2020. Ray is known for her cooking career and love for animals, as she created her own pet food company, Nutrish to help pets get the nutrition they need.
Kristen Bell
Kristen Bell's newest family addition, Whiskey, only has three legs! before she rescued him, he was hit by a truck. "Welcome home," Bell writes.
Keith Urban & Nicole Kidman
Keith Urban and Nicole Kidman share more than just love; they also share their pet, Julian, pictured alongside Keith here.
Zendaya
Euphoria star Zendaya poses with her pooch in this adorable, cuddly photo. Truly, there's no greater love than love for a pet.
Justin Theroux
In June 2021, actor Justin Theroux took this snapshot of him and his pup, Kuma. "Celebrating Kuma's Gotcha Day! he wrote.
Nick Jonas
Pictured alongside pop singer Nick Jonas is his German Shepherd, Gino. And yes, Gino does have his very own Instagram account!
Mandy Moore
Actress Mandy Moore is yet another celebrity who takes pride in her pets. Here, she poses alongside her dog for a Kleenex ad.
Liam Hemsworth
"Dazed and confused," The Hunger Games actor captioned about his pup. And although the doggo might be dazed and confused, he sure is cute, too!
Ashley Benson
No caption needed for this one. Here, Pretty Little Liars actress Ashley Benson poses with an adorable little hamster.
Chrissy Teigen & John Legend
Celebrity couple Chrissy Teigen and John Legend have quite the photobomber in this photo! At least it's a cute one.
Kaley Cuoco
Kaley Cuoco rescued this sweet mastiff mutt and named him Larry! "He's a 9 year old ginormous mastiff chucnk mutt of love and we are obsessed," she wrote on Instagram.
Bobby Berk
Queer Eye's Bobby Berk is also obsessed with dogs. "This one melts my heart and bends my will with just a look," he wrote on Instagram.