Cats
Alex the explorer bengal cat
Adventurous and with an exotic and magnetic look, we are talking about Alex. The beautiful Bengal cat that makes the hearts of his followers flutter and that, in a few months, has become one of the most beloved Ferplast ambassadors.
We interview Alexandra, Alex's young human mother. We made him tell something more about the character and passions of the famous cat and his wonderful relationship. If you want to adopt a Bengal cat, you are sure to find some interesting ideas in this read.
Hi Alexandra, how many years have you been living with Alex?
Alex has been with me for almost two years, but I feel like I've lived with him forever. We have a deep, I dare say symbiotic relationship, and these 24 months have been wonderful. February 26 will be his birthday. He is turning into a little man and I am planning an intimate party for him (for obvious reasons it will be me, him and my partner!).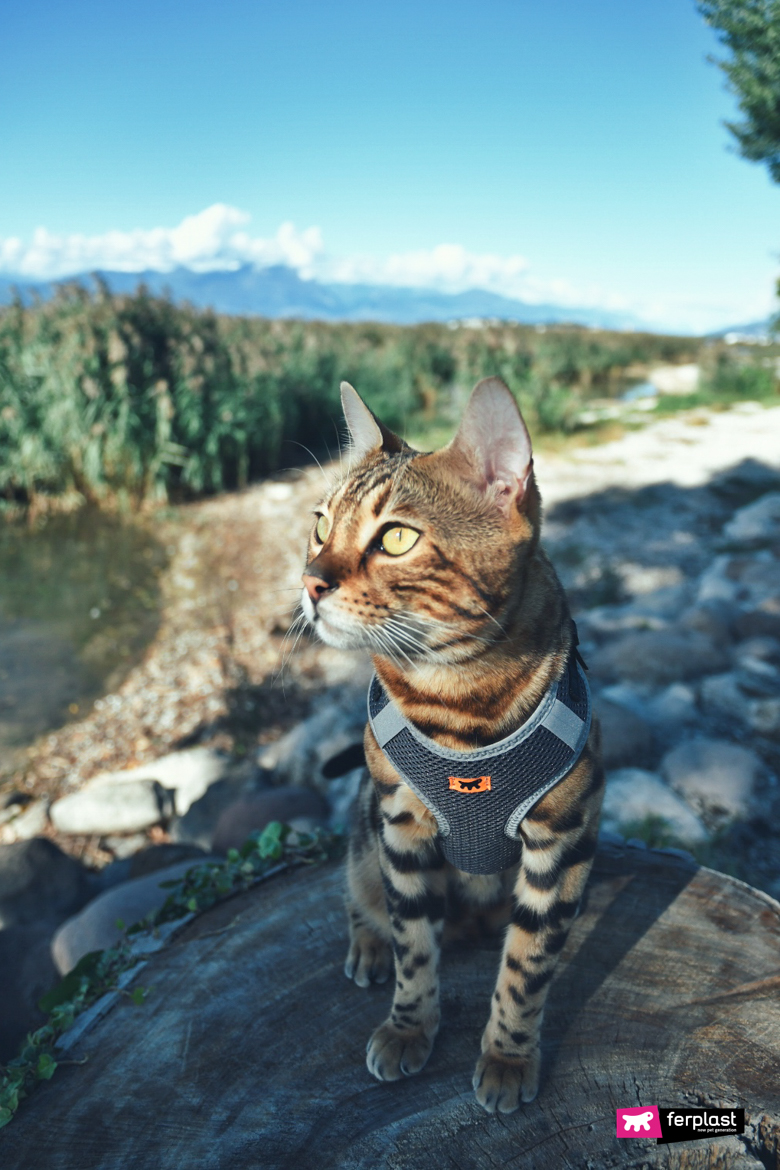 What do you like most about Alex?
I love all about him! If I had to choose one aspect that makes it so special, out of all of them I would say its adventurous spirit. Cats are usually sedentary and domesticated, but Alex is a born explorer and in him I have found a brave travel companion.
Alex loves to get outside and take walks in the mountains. Sometimes I feel like I have a puppy at home! He makes me smile when he stands by the door, begging me to take him for a walk around the lake. When I put his harness on Nikita from Ferplast and the leash comes to life and runs happily all over the place.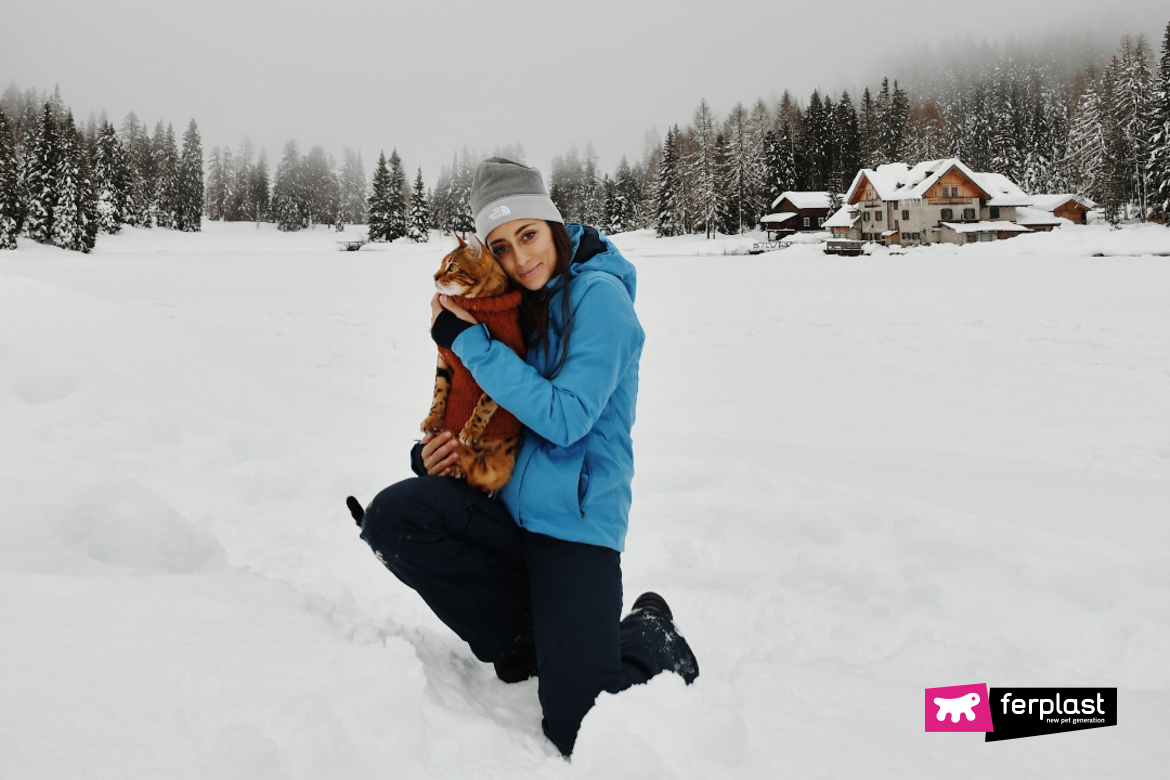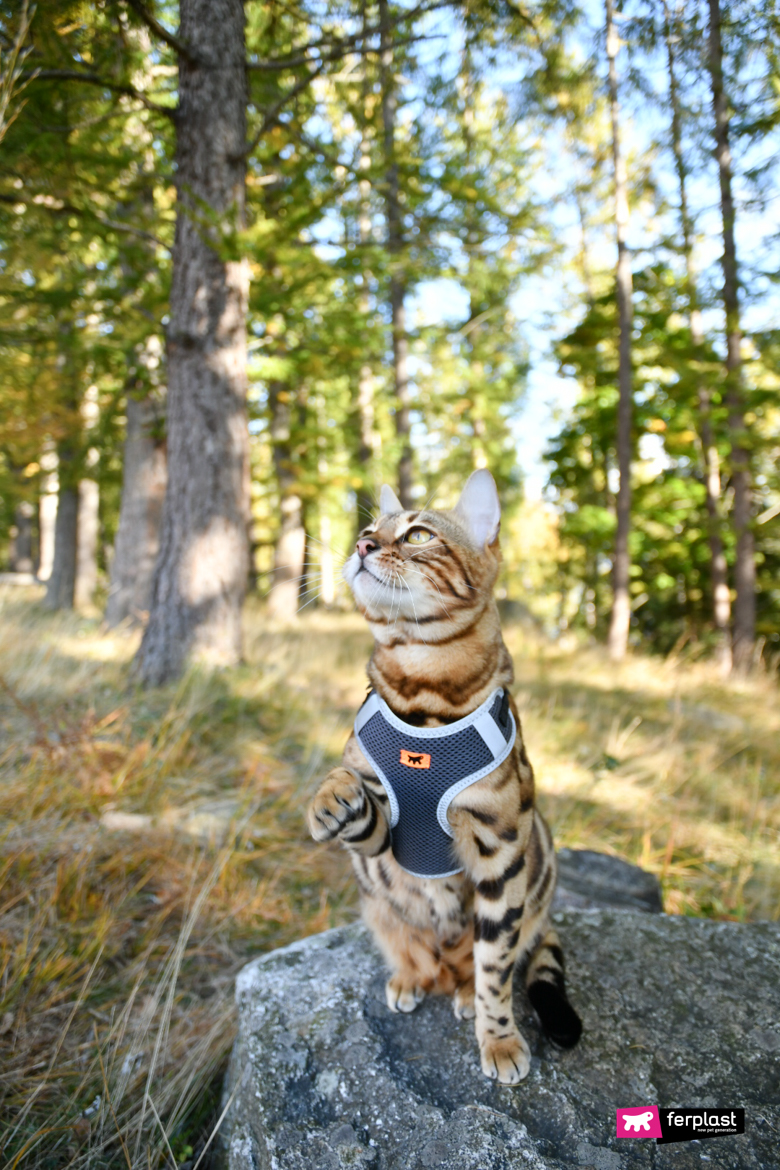 Given your passion for travel, how have you managed these months of confinement at home?
It hasn't been easy, Alex is an energetic cat, he doesn't sleep much and he runs a lot, so I had to invent many activities to do inside the house. We're playing a lot with dangling sticks and classic stuffed mice. He is the one who comes to me with prey in his mouth waiting for me to throw it at him.
What Ferplast accessories do you not part with?
The Prince green velvet cushion wins the award for Alex's Favorite Accessory. I don't know if there's some calming chamomile scent hidden inside, but it's the only place in the house where you can relax and take long naps. He is soft and warm, plus the green goes well with his spotted fur. We also get along well with the Nikita harness, which is essential together with the leash to go out in complete safety.

How do you care for the coat of a Bengal cat?
Good question, I am the most attentive mom to her kitty's hygiene! The Bengal is known for its sumptuous coat, inherited from its Asiatic leopard ancestors, and to keep it always shiny and soft I brush it once every two days. Nutrition also counts a lot. I buy him breed-specific kibbles, fresh raw tuna (which he loves!) and boiled chicken. In addition to combing her hair, I brush her teeth every night and trim her nail tips when necessary. So that's the secret of her beauty!

Is Alex a friendly cat or does he tend to be reserved?
For a cat, he gets along with everyone, even big dogs… except cats. It may be that he probably thinks he's a dog, but he can't seem to bond with other felines.
He is very kind to new people. From time to time, because of his leopard appearance, they ask me if he is aggressive and I smile. He doesn't really have the instinct to scratch, he never has in his life. On the contrary, he is a "big puppy", he always looks for me and never loses sight of me. Even when I come home from work he comes to meet me, very happy to see me again.
A special thanks to our ambassadors Alex and Alexandra, follow their adventures on Instagram @thebengalalex